Nash Community College's multimedia studio and home to Big Bang Radio
Studio 67 films and produces shows and student programs, live-streams college ceremonies, provides instructional video and audio production, and serves as the laboratory for the Broadcasting and Production Technology degree program. The studio also welcomes volunteers from the college and community to learn and participate in audio, radio, and video productions.
Inside Studio 67 is NCC's 1000-watt radio station, Big Bang Radio, broadcasting locally as WNIA-89.1 FM and live-streamed 24/7 at studio67ncc.com. Playing genres like college, alternative, and indie, the station reaches audiences around the globe and works with major record companies to give their new artists airplay.
Big Bang Radio Spotlights
12:00-12:30 pm
Tune in to hear Isaac talk to artists or bands from all around the world.
Music For Your Mother
5:00-6:00 pm
Vernon Black spins rock, pop and soul from the late 60s and early 70s, and specializes in deep cuts and album tracks.
Also airs Saturday at 9 pm.
Totally Tubular Time Machine
8:00-9:00 am
Join Drew each week for a trip back to the '80s where you'll explore musical trends, genres, countdowns, top hits, and pop culture – all from the decade of excess and radical tunes.
Totally Tubular Time Machine is LIVE each Thursday morning, with rewinds Fridays at 6 pm and Saturdays and Sundays at 3 pm.
The Grit & The Grind High School Football Show
7:00-7:30 am
Kick off your Friday morning with Shawn, who highlights local high school football.
Replays on Fridays at 4 pm.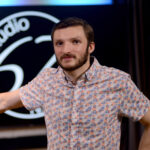 Isaac
Anderson
Studio Assistant
Building:
Business & Industry Center